Polycrystalline Diamond Dies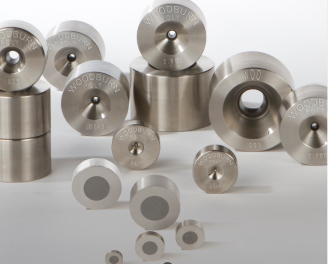 The "industry workhorse" is the signature of the polycrystalline diamond die, where standing up to demanding wear is a necessity. This material has highly predictable die wear, thermal stability with high resistance to fracturing. All these characteristics offer cost efficiency with less downtime. Woodburn Diamond Die's uncompromising quality assurance methods provide trouble-free performance from installation to recutting.
Polycrystalline diamond is manufactured by forming a mass of diamond crystals and then applying a combination of heat and pressure. Through this process, the mass becomes a single unit with the diamond particles inter-grown to each other. The final product is extremely wear resistant, maintains tight hole tolerances, and provides good surface finish. Consider Woodburn's polycrystalline diamond, where high polish is included as part of the standard process, when drawing ferrous or nonferrous wire, including aluminum, copper and stainless steel. It's also the perfect material for stranding, bunching, tube drawing and shaped dies.
Polycrystalline diamond is available in various grades, nib sizes and size capabilities. Woodburn Diamond Die's technical advisors will help select the appropriate nib size and grain structure for your application.
Polycrystalline Diamonds (.0030 – 1.140") (0.0762 – 29.00 mm)
For more information on our polycrystalline offerings, please click here to contact us.
[table id=3 /]
[table id=4 /]
[table id=6 /]