Single Crystal Diamond Dies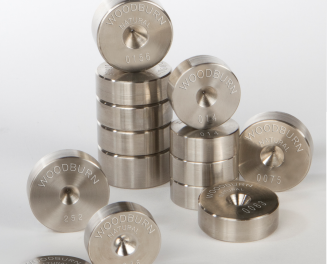 Superior performance is the hallmark of the diamond, whether it's a natural diamond that is mined or one that is synthetically grown. This material guarantees wire die hardness, accuracy, superior finish and an extended die life. Woodburn's research and innovation are combined with veteran craftsmanship to ensure precision quality and cost effectiveness using the hardest materials known to man.
Dies manufactured with single crystal diamonds produce drawn wire with superior surface conditions and the ability to maintain very tight diameter tolerances. Drawing applications and required hole size diameters are used to help determine which diamond crystal is the appropriate material with which to work.
Single Crystal Diamonds (.0004 – .144 inch) (0.0102 – 3.658 mm)
For more information on our diamond die offerings, please click here to contact us.
[table id=2 /]